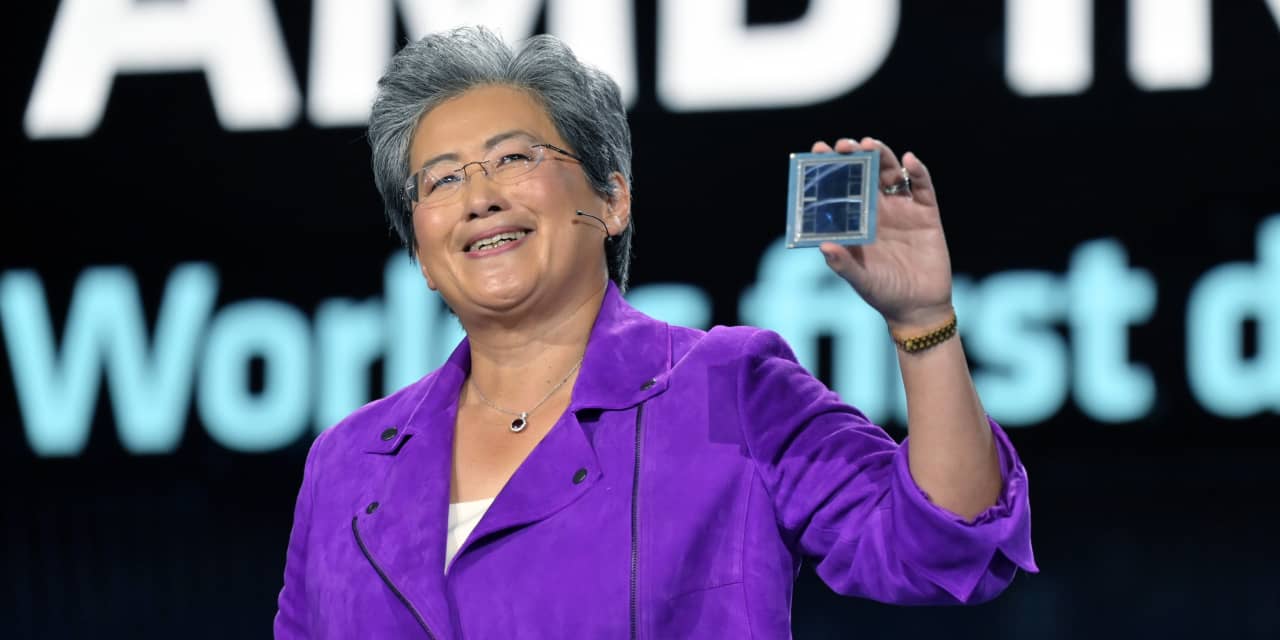 As CES 2023 draws to a close, much of the attention in the chip world was lauded on companies like Advanced Micro Devices Inc. and Nvidia Corp. but a lower profile chip maker appears better positioned coming out of the convention.
Morgan Stanley analyst Joseph Moore said there's still a lot of caution about overall chip demand especially with softness in China, but autos appear to be one of the strong themes of CES 2023, he said.
"The areas that have been weak remain somewhat weaker – notably memory, semi cap, and generally PC and cloud builds – while the markets that have been strong (such as automotive and industrial) remain strong but with lead times clearly starting to normalize, which likely points to longer term revenue pressures particularly in a weaker economy," Moore said.
"Still, the longer term themes remain positive, especially for autos (which is increasingly the focus of CES),around themes such as EVs, ADAS and autonomous."
Such was the case when Nvidia Corp. NVDA, +4.16% said on Tuesday it was partnering with Hon Hai Technology Group 2317, +0.41% , or Foxconn, best known for being the manufacturer of Apple Inc.'s AAPL, +3.68% iPhone, to make electric vehicles that use Nvidia's Drive Orin chips and sensors, and bringing its GeForce Now streaming video game service to autos made by Hyundai Motor Group 005380, +0.31%, BYD 1211, -2.60%, and Swedish EV maker Polestar.
"We generally think that Nvidia numbers are likely OK from here, though there was some caution on sell through in China for gaming, and a clear awareness that while the company's position within cloud is very good, that pressure in cloud budgets leads to somewhat lower visibility," Moore said. "But we would say that generally we think that they are past the worst of the pressures in their business, in contrast to most of the semiconductor group where there are still likely numbers cuts ahead."
Meanwhile, Advanced Micro Devices Inc. AMD, +2.62% used the CES keynote to introduce the Instinct MI300 chip as "world's first data-center integrated CPU + GPU." The combined central processing unit and graphics processing unit meant for AI inference, the months-long process where data centers spend millions of dollars a year on electricity to train and develop artificial intelligence. AMD Chief Executive and Chair Lisa Su said the MI300 can reduce the time it takes for an inference modeling process from months to weeks.
But one chip maker that doesn't get a lot of attention appeared to emerge from CES best positioned for the year: ON Semiconductor Corp. ON, +4.57%, which focuses on electric vehicles and advanced driver assistance systems as primary growth drivers, leveraging its legacy position in auto chips.
"Most notably, the company's push into [Silicon Carbide] remains on track, and expect to still exit the year at a run-rate where the majority of crystal driving the business is internally sourced," Moore said. "The company remains confident that demand in the EV space will far outpace supply for a long time and have thus shifted their focus over to execution on the production side."
Citi Research analyst Christopher Danley lauded ON as being the most bullish chip maker of CES 2023.
"ON remains on track to triple Silicon Carbide revenue YoY from roughly $300 million in 2022 to $1.0 billion in 2023," Danley said. "The company stated it is sold out through 2023."
But ON aside, Danley said everyone at CES is "nervous" about "cracks" in data-center demand, "and they should be."
"There was a tone of nervousness on the data center outlook with many execs and investors cautious and talking about 'uncertainty' in data center outlooks from both hyperscalers and enterprise customers," Danley said. "We continue to believe data center correction will happen given a multitude of datapoints and leading indicators."
Back in early December, Danley said his checks "indicate order rates from the data center end market are fading with downside from the enterprise end market (roughly 40% of the data center end market) and Facebook," which is owned by parent company Meta Platforms Inc. META, +2.43% "We continue to expect a correction in the data center end market in 1H23," Danley said.
That said, Danley said his top pick was and continue to believe a correction there is inevitable. We remain cautious on semis until all end markets and companies correct and our top pick remains chip maker Analog Devices Inc. ADI, +3.65%
Back to autos: Ambarella Inc. AMBA, +6.77% on Thursday, Ambarella said it was partnering with Continental AG CON, +2.32% to develop hardware and software for assisted driving using AI with the ultimate goal of an autonomous driving system. The companies hope to have systems in production in 2026.
Moore said Ambarella's tech "continues to impress," and said the Continental partnership will provide software revenue that's shared but with the larger portion going to Continental.
At CES 2023, "the companies are showing a full L2+ ADAS implementation for a 10-camera system running on a single chip, which per AMBA was only using 8% of the compute value of the chip."